Project Servant Ermes:

2016

A quantique art partnership to help the transition towards a revolutionary energy.

Quels seront les partenaires mondiaux, pionniers du projet Ermes !



More committed than ever in combating pollution, 'the electron pump' project by Servant Ermes is revolutionary, not only in terms of technology but also in terms of its original financing method: Art for Science! A transition towards clean electrical energy will prove beneficial to the people of tomorrow. Based on the author's innovative works, this theory will further develop from sales of quantum art pieces entitled 'the quantique world brought to light'. Purchasing such artworks will become a useful and gratifying investment for these sponsors.

Servant Ermès Theory (1): Based on his own works dedicated to quantum physics, 'the electron pump' is based on the principle of an electric generator operating entirely without any external power. Indeed, this clean technology would provide infinite electricity day and night. Cumbersome wires for small appliances, electrical or spatial devices would no longer be needed. Battery chargers would become redundant. Mobile phones, cars and public transport would have an all-round operating life. This ground breaking solution would allow for electrical production available anytime, anywhere.

Research: This research needs to start without any further delay in order to benefit the men and women of tomorrow. Stakes are very high; however the research will require approval after lengthy and obviously necessary studies. Focused on the creation of a quantique art and science research centre, this project will provide an impartial international collaboration before moving onto the manufacturing stage.
'Our project' funded by the work of art:
Artistic partners and purchasers (companies, collectors and territorial collectivities) will become the pioneers of this energy evolution.



Partenariat en cours
année 2016
Demandes de partenariat pour la FRANCE
Du 03.05 2016
LES 13 GRANDES VILLES DE FRANCE
-Mairie de Paris Madame La Maire Anne Hidalgo
-Mairie de Marseille Monsieur Jean-Claude Gaudin
-Mairie de Lyon Monsieur Gérard Collomb
-Mairie de Toulouse Monsieur Jean-Luc Moudenc
-Mairie de Nice Monsieur Christian Estrosi
-Mairie de Nantes Madame La Maire Johanna Rolland
-Mairie de Strasbourg Monsieur Roland Ries
-Mairie de Montpellier Monsieur Philippe Saurel
-Mairie de Bordeaux Monsieur Alain Juppé
-Mairie de Lille Madame La Maire Martine Aubry
-Mairie de Rennes Madame La Maire Nathalie Appere
-Mairie de Reims Monsieur Arnaud Robinet
-Mairie du Havre Monsieur Edouard Philippe

LES REGIONS DE FRANCE
-Hôtel de Région, Paris Madame Valérie Pécresse
-Hôtel de Région, Rouen Monsieur Hervé Morin
-Hôtel de Région, Bordeaux Monsieur Alain Rousset
-Hôtel de région, Nantes Monsieur Bruno Retailleau
-Hôtel de Région, Rennes Monsieur Jean-Yves Le Drian
-Hôtel de Région, Orléans Monsieur François Bonneau
-Hôtel de Région, Lille Monsieur Xavier Bertrand
-Hôtel de Région, Rennes Monsieur Jean-Yves Le Drian
-Hôtel de Région, Dijon Madame Marie-Guite Dufay
-Hôtel de Région, Lyon Monsieur Laurent Wauquiez
-Hôtel de Région, Strasbourg Monsieur Philippe Richert
-Hôtel de Région Marseille Monsieur Christian Estrosi
-Hôtel de Région Toulouse Madame Carole Delga
-Hôtel de Région Ajaccio Monsieur Gilles Simeoni
ETAT FRANCAIS
Hôtel Matignon Monsieur le 1er Ministre Monsieur Manuel VALLS
Ministre de la Culture et de la Communicatio Madame Audrey AZOULAY
Ministre de l'Environnement, de l'Énergie… Madame Ségolène ROYAL
Ministre de l'Économie, de l'Industrie… Monsieur Emmanuel MACRON
LE MONDE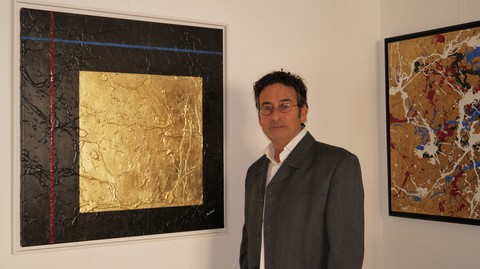 .
ART SCIENCE ENVIRONNEMENT
Incontournable exposition : l'œuvre de Servant Ermes apporterait la solution énergétique propre pour l'humanité de demain !
Adieu pollution, recharges de batteries de portables, mobiles, vélos, voitures… à l'horizon 2050, se profile la production à l'infini d'une électricité propre.
Cette incroyable perspective n'a rien d'une fiction. C'est d'innovation dont il s'agit, d'une indispensable révolution technologique et sociétale au profit des générations futures.
Une énergie propre et illimitée qui serait rendue possible grâce aux idées d'un artiste, au soutien des médias et d'un industriel, et, dès 2017, aux travaux de chercheurs.


"Le principe repose sur le déplacement d'électrons d'une masse conductrice par une masse MRPA."

Dans Théories quantiques en lumière, la toile maîtresse présentée dans l'exposition, chaque élément à un sens pour définir l'équation : un fond « diamant noir », deux couleurs fondamentales sur silice qui se croisent, et une fenêtre d'or illuminant des lettres blanches.
Mes œuvres sont à la disposition d'institutions d'art, des sciences physiques et sociales ou de grands collectionneurs.»
Exposition à la Galerie Art Quantique, sur RDV.
Contact via le site
Projet 2018/2019 Algomarines
L'art et la nature au service de l'humanité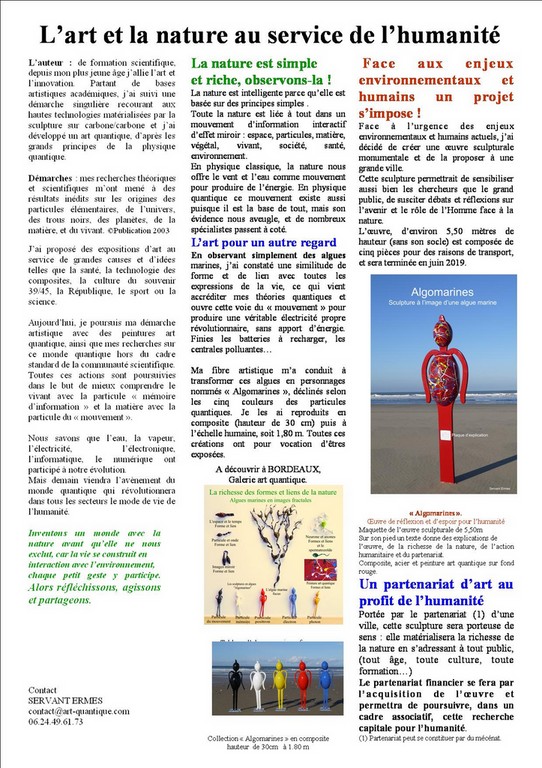 Tableau expo algues marines fucus
L
Photos Algomarines 30cm 1.80m
projet maquette sculpturale 5.50m